Aren't girlfriends great?
Especially ones who are willing to share & teach you new things!
My friends Tricia & Lori are avid beaders/jewelry makers.
It's safe to say that they're addicted. They've told me so several times...and they've warned me that they're out to get me hooked too :)
On Monday they invited me & another friend, Holly over for a little "workshop."
And now my friends, I have a new hobby!
Do you want to see what we made?!
Here's mine.
The inspiration came from a necklace I saw in a Silpada catalog.
It was a $96 necklace!
This is what Lori made.
So bright & fun!
She made it as a gift for someone...
I can't help but secretly wish it were for me!
This is the necklace Trisha made.
I love this one too!
You can't tell from the pic but there are a lot of dark blue beads
She made the long silver wrapped thingys too...sorry Trisha, I don't know what to call them!
Maybe you need to teach me some beading vocab next week!
And last, here's Holly little ditty!
That girl has a great eye & focus to git 'er done!
She was trucking along on her bracelet & nearly done by the time I finally figured out what I was going to make. At that point I was wishing I would've copied her.
I LOVE this bracelet!
......................................
Linking up at I <3 nap time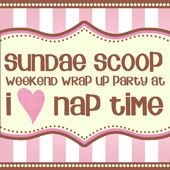 Sundae Scoop @ I {heart} nap time