This month on Monday's it's all about the MEAT so get your crock pot's ready for some slow cooked goodness.
French Dip Roast Beef
-1 Package Onion Soup Mix
Place Roast in Crock Pot with soup mix and bullion cubes and cover with water. Cook on low for 8-10 hours. Roast will shred easily once cooked. Serve on rolls or crusty bread (check out a easy bread recipe here). Broth can be drained off into a small dish for dipping.
If you have any left overs you can refrigerate the broth and shredded beef together (this is even better the second time around!) Enjoy!
If you have time please VOTE for us #89 in One Artsy Mama's Contest. Thanks!
HERE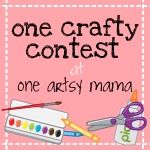 Our Entry #89
While you are there click on the picture to check out our tutorial to make your own!!