Have you heard the big news??
Sister See Sister Do has made it through the 1st round of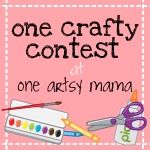 If you voted, thank you!!! We were originally eliminated from the top 20 round but after another contestant dropped out, we were contacted & asked to participate. Chelle & I were PUMPED to be given another chance!
There were some seriously impressive projects submitted for Round 1, the beading round. The top vote was definitely one of my personal favortites...along with the beaded bedskirt & both of the beaded chandeliers - go look!
Here's Melanie's wire wrapped bracelet:
Awesome, isn't it?! She has a tutorial for the bracelet up now!
http://artzycreations.com/diy-wire-wrapped-cuff-bracelet/
This submission was ours:
Here are some more pics that I found on my computer
of the earrings & necklace.
My husband took these right after I made them last summer.
There's no denying that kid is my son! He's such a clown!
Well that's all for now!!
If you want to keep tabs on us during One Artsy Mama's contest, follow us on facebook! We find out at midnight tonight what the theme of the next round is! Michelle & I are already brainstorming our possibilities :) Here we go!!! Wish us luck!!!