It's time! Voting is over & now we can reveal which submission was ours into One Artsy Mama's One Crafty Contest!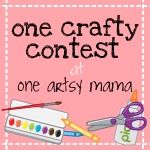 There were some crazy- awesome submissions. Seriously, impressive & defnitely inspiring! Honestly, it makes me crazy because lately I've had zero time to be crafty & these projects are ones I'd LOVE to copy-cat & try! Did you see the bookshelf firestation?! My boys would LOVE that! AND, the glass tile tree mosaic?! What a beautiful piece of art...make with MODGE PODGE, of all things!!!
Michelle created this piece & once again did what she does best!! She made-over one ugly piece of furniture & turned it into something very cute!
Now, check out the BEFORE:
This thing made us go, "EWww"
It was a leftover from a garage sale & was given to us. It sat in my (Julie's) garage for a year. I never had time nor did I know WHAT to do with it.
Leave it to MICHELLE to save the day :)
Photographing it was A LOT of fun for us to do together....
Can you imagine us, out in the middle of no-where Ohio...on the road & by a field snapping pics of a night stand???? Glad we didnt' have to explain ourselves to anyone or they'd think we were a little weird...there's nothin' wrong with the truth though, right!!
I'm going to throw this one in for fun :) Sorry, Chelle!
And this one for fun too...
Pics like this make me LOVE Ohio country side...
We hope you liked the makeover as much as we did. It was fun being a part of One Artsy Mama's contest! Unfortunately we didn't make it through to the next round, but even though we won't be competing, we're excited to see what the remaining contestants will be coming up with in the rounds ahead! The talent will blow us away, I'm sure!
Thank you Amy at One Artsy Mama for letting us compete!!!!
We are so grateful!!!
OXOX,