Did you go vote yet in the
One Artsy Mama Contest
? Go check it out and vote for your favorites. We just love to see what the remaining contestants are coming up with!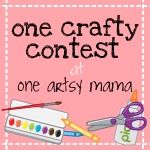 Even though we're not in the contest anymore I'm still busy working on my own crafts around the house. I have one room in the house I love to re-decorate about once a year. I've finally neutralized the wall color so updating is as easy as whipping up pillow slip covers, spray painting some decor and in this case adding a bit of fabric!
We had purchased 2 pieces of wall art at Kohls about 5 years about (for about 3.00 a piece - I love a bargain). A couple weeks ago I was cleaning house prepping for our garage sale and decided the art needed to go... Then I changed my mind (after I had priced it and displayed it in the garage). I really thought I'd paint over them since they were already textured it could have been a hit or miss...
I ended up at Wal-mart of all places and fell in love with this black and white fabric in the special occasion row. I love it! Its a bit shimmery and the black is velvet and raised up. For $5.97 a yard I could not resist (they had 3 different patterns but this one matched my Goodwill Mirror). I did add a piece of poster board .30 each between the art and the fabric so the previous art color would not show through.
Covering painters canvas or old art is easy peasy when its a wood frame! Stretch from all directions and pull tight then staple! It's SO inexpensive and easy to do, plus if you get tired of it changing it is no big deal! When we were first married (several years ago...)I bought a couch size canvas and stretched over fabric. It's a great option on a budget and for non-painters!
Now I just need to whip up a couple pillow covers to match! I'm even thinking about covering some frames with some Modge Podge and fabric to match - go check this out for some inspiration at
My Simple Obsession!